CARBON NEUTRAL
WHAT WE DO?
HYBRID SOLAR AND WIND ENERGY
WINDMILL
INVERTERS
Hybrid Street light system for outdoor lighting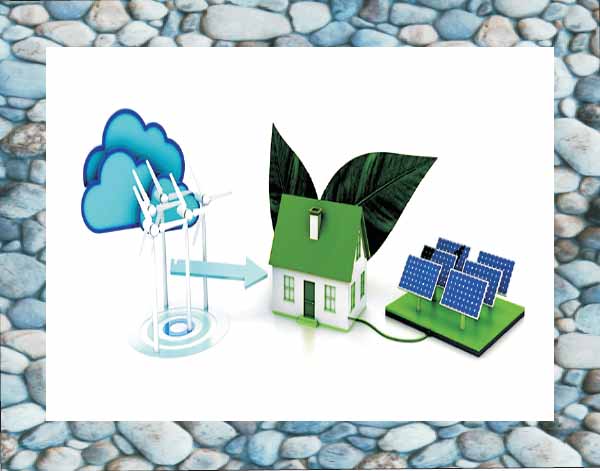 What we Do ?
IS Integrators an engineering is a globally respected multi disciplinary renewable energy consultancy with a reputation for engineering and technical excellence.
We have a wealth of experience and proven track record of providing industryleading technical and advisory services challenging wind solar bybrid sites whether off-grid or grid connected.
A Multi-Disciplinary Engineering Organisation providing range of services from Concept to Commissioning
ROBOTIC SOLUTIONS
MECHATRONIC SOLUTIONS
ELECTRICAL ENGINEERING
FACTORY AUTOMATION
POWER QUALITY ANALYSIS
HYBRID SOLAR-WIND POWER
HYBRID SOLAR AND WIND ENERGY
This hybrid solar-wind power generating system is extensively used to self-utilization and to reach independent self-powered.
This brochure describes an analysis of local PV wind hybrid systems for supplying electricity to a private house, farmhouse or a small company with electrical power depending on the need at the site.
Due to intermittent natural energy resources and energy resources seasonal un-balance, a PV-wind hybrid electrical power system for home was developed for many realistic reasons where a conventional grid connection is inconvenient or expensive.
While the hybrid system is also applicable with out grid connection, owners are allowed to generate the excess electricity and store in batteries for offline usage.
The set-up consists of a photo-voltaic solar-cell array, a mast mounted wind generator, lead-acid storage batteries, an inverter unit to convert DC power to AC power, electrical lighting loads and electrical heating loads, several fuse and junction boxes and associated wiring, and instruments for measuring voltages , current, power factors, and harmonic contamination data throughout the system.
Know About Solar..........
Solar energy is available on earth, in varying amounts. Solar radiation that reaches the earth's surface in an unbroken line called direct, while sunlight scattered by clouds, dust, humidity, and pollution is called diffused. The sum of the direct and diffuse sunlight is called global-horizontal insolation.
Insolation is a term referring to the amount of solar radiation that strikes the planet's surface over some period- a minute, hour, day month or year.
Concentrating solar technologies, which use mirrors and lenses to concentrate sunlight rely on direct radiation, while PV cells andother solar technologies can function with diffused radiation.
Specification
SOLAR
| | |
| --- | --- |
| Power rating | 100W to 5000W |
| IP Class | IP65 |
| Open circuit voltage (Voc) | 4.6mA +/- 8% * |
| Short circuit current (Isc) | 105mA+- 8% * |
| Maximum power volt (Vmp) | 4.0V+/ 8% * |
| Maximum power current | 100.0 mA+/- 8% * |
| Maximum power (Ppm) | 0.4W +/- 8% * |
| Minimum and Maximum power rating | |
| Panel | 50W to 300W per panel. |
| Type | PV Cell mono/poly crystalline Panel |
| Mounting | Anywhere upon availability of open space. |
| Encapsulated | PC film lamination. |
| Efficiency | It varies on the location, the town. |
| Working Temperature | 10degC - 50deg C.* - per cell |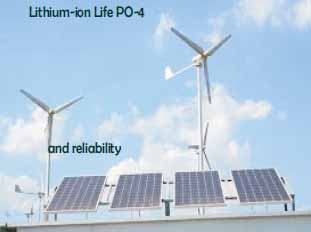 WINDMILL
A windmill is a machine converts the energy of wind into rotational energy by means of vanes called sails or blades.
The reason for the name "windmill" is that the devices originally were developed for milling grain for food production; the name stuck when in the course of history, windmill machinery was adapted to supply power for many industrial and agricultural needs other than milling.
The majority of modern windmills take the form of wind turbines used to generate electricity, or pumpwater, either for land or drainage or to extract ground water.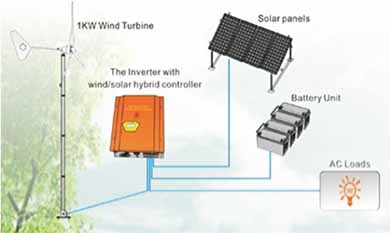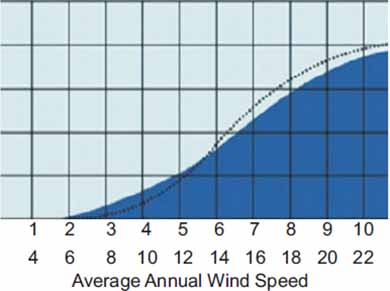 Specification
WIND
| | |
| --- | --- |
| Turbine rating | From 400W to 5000W |
| No. of Wings | 3 or 5 |
| Startup wind speed | 2.0 (m/s) |
| Cut in wind speed | 2.5 (m/s) |
| Pole height | 6 meters from tallest place of the Building. |
| Working Temperature | 40 deg C. |
| Survival wind speed | 50 (m/s) |
| Tower type | Free stand/ guyed cable tower. 3 to 5 blades, built in/without controller options. Bearing from "SKF" Sweden stainless steel screws. |
* High strength, corrosion resisting aluminum alloy.
* Low startup wind speed
* High efficient generator
* Perfect wind wheel system.
* Unique design of the rudder.
* Damp proof, sand proof, Anti-rust, Anti corrosion.
* Easy installation, free of maintenance, Long life span over 15 years.
* Over speed protection Controller as per German stds..
If a solar system was a living organism, the inverter could be considered the brain of the system. Primarily responsible for connecting Direct current (DC) electricity into alternative current (AC) electricity that is required for electrical appliances.
Made German standard
| | |
| --- | --- |
| IP Class | IP 2 2 |
| Power rating | varies from 5A to 40A |
| Supply generation | Single phase/Three phase |
| Voltage | 1AC 220V / 3AC 400V |
Battery State-of-charge display with 3 LED's.
Acoustic load disconnect pre warning
PWM regulation (series type)
Boost, equalize and float charging, also for VRLA
Automatic 12/24 V input voltage detection.
Integrated temporary compensation
Large Terminal upto 16mm 2 wire size
SOC and Voltage controlled LVD
Fully Electronically protected.
BATTERY
| | |
| --- | --- |
| Nominal Voltage | 12V |
| Type of Battery | Tubular type Maintenance Free |
| Total No. of Batteries | Required as per power rating |
Hybrid Street light system for outdoor lighting
Hybrid Wind solar street light concept is a unique and everything in built. No external supply is required to lighting up in any situation.
Controllers and batteries are inbuilt in the pole and works like a standalone station.
Looping up street light with master single controller is also available as options.
Pre-determined ON/OFF provision and lumen based ON/OFF control is also available as options.
Burglar Alarm/CCCamera can be integrated with this system for external security and power fed to CC camera is from the system.